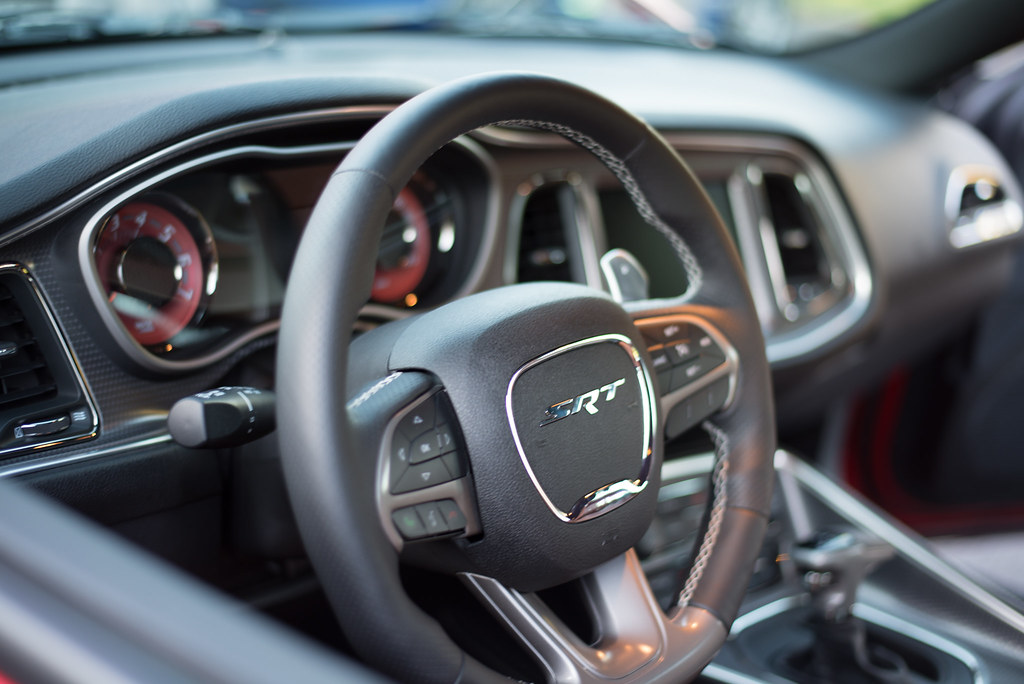 Dodge is Swapping Supercharged for Super Charged
True to muscle car tradition, Dodge has kept their brand offering pure horsepower instead of evolving into contemporary sports cars like Mustang and Camaro. Not that there's anything wrong with sporty American muscle, it's just awesome that Dodge is keeping the original muscle car purpose alive and revving. Since it was first released in the 1970s, the Dodge Challenger has been the embodiment of pure muscle. And it's just getting 'bigger and badder' – they even say so in their ads! The latest Challenger SRT Hellcat is fierce. It's a monster in design and performance. Although I am a die-hard Mustang fan, this Challenger is a supercharged mean machine that holds a special place in my heart – especially because it gives out that old-school vibe. But this may be about to change.
Evolution is Inevitable
Dodge has dodged some of the evolutionary steps like using technology to up their game. For example, Mustang improved their V8s efficiency by evolving their flat-plane crankshafts. They still have that intoxicating loud purr, but the Dodge is definitely a bit rougher around the edges, and that is one of the things making this brand attractive to its followers. But, despite their insistence on keeping cars quite traditional, Dodge is one of the first contemporary classics making the decision to take advantage of the many benefits of going electric.
The Absolute Future, But When?
According to Tim Kuniskis, the man in charge of passenger cars for Fiat Chrysler Automobiles (FCA), Dodge Challenger and Charger will definitely have some kind of electric future, but just how electric, is not yet known. At the unveiling of the Dodge SRT Hellcat and Scat Pack, Kuniskis said, "I think the absolute future is the electrification of these cars." According to Kuniskis, customers will continue to focus on power and performance and the reason why FCA has not already released electric versions of the Dodge Challenger and Charger is because of affordability. Kuniskis reckons that as soon as the price points come down and it becomes a viable option for mainstream releases, they'll get on board.
Dodge Fans May Jump Ship Though
There is something to be said of the die-hard Dodge fan. They seem to like their cars rough and ready, growling and rearing to go with max torque and traction. If Dodge decides to go all-out with a battery-electric version of the Challenger, Dodge-loving drivers will likely demand that performance is on par with what they've come to love and expect from their favorite brand. The Challenger SRT Hellcat rules the road with a top speed of 199mph and the Charger has even more impressive performance with its 717-horsepower option that can propel it from 0 to 60 in a mere 3.5 seconds.
Say Sayonara
Sadly, FCA boss Mike Manley is not too positive about keeping the dream alive. According to Manley, electric cars are definitely the future of the American muscle engine but it's not going to be a "V8, supercharged, 700-horsepower engine." I reckon most progressive petrol heads will likely be hoping for a little bit of both, maybe petrol engines supplemented with electric systems. What do you say FCA? Can we hope for a Hybrid Challenger?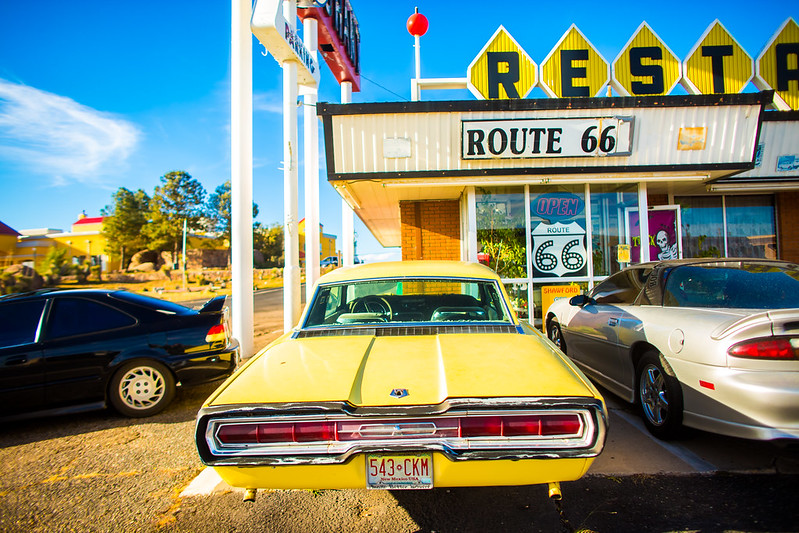 4,000 Kilometres, 8 States, 14 Days, Three Time Zones – A Million Smiles
Unless you saddle up a horse and wear a Stetson hat and spurs, you can't get more American than driving Route 66 with a vintage American muscle car. When I first got a bee in my bonnet about driving Route 66, I was told that it no longer exists, except in songs and movies. After a bit of research, I discovered that it was officially decommissioned in the 1980s and no longer features on maps. But, as for the actual road, it's still mostly there, and the patches where it's unpaved and unpassable are easy to pass by.
In Fact, It's a 'Thing'
I also learned that Route 66 still holds a special place and it's become quite a thing to do for fans of American culture and us petrol heads alike. I decided that it's my kind of thing and signed up for a two-week car trip to experience some authentic American fun. I flew to Chicago, Illinois where the Route 66 trip begins and was met by the tour organizer who was, incidentally, wearing a giant Stetson hat! After a short drive to the hotel, I met some of the other guys and gals who were also on the tour. We toasted our trip with some ice-cold Budweiser beers and swapped car stories.
Ready, Set, Rev!
The next day each of us was introduced to the car we selected when we signed up for the tour. I was almost jealous of Dean who had a white 1968 Mercury Cougar GT-E and of Alex who cleverly chose a gorgeous yellow 1973 Ford Falcon XB GT. But hey, how much more muscle can you want if you have a 1967 Mustang fastback with a 390 V8 at your disposal? Especially if it's in mean midnight black with an even meaner devil red interior. The rumble is unmatched by anything you can find today with all the modern mufflers and CAF requirements and I was super happy with my choice as I roared towards the start of the historic Route 66.
When the Ultimate Muscle Car Meets Kitschy Americana
Nothing can quite describe the feeling of absolute freedom you feel driving across America and stopping along the way for a selection of quirky and wonderful sights. Weirdly, it's some of the more kitschy stops that make you truly feel like you're in the 'land of the free and home for the brave.' Like some of the rusty truck stops in the middle of nowhere, the massive neon signs dotted along the way and odd things like two giant yellow and red arrows and massive Tiki head. Or, even more peculiar, Cadillac Ranch, a weird art installation of brightly painted Cadillacs half-buried in the sand which made Burt wonder if he's having an acid flashback. All along the Interstate, we were playing cat and mouse, one vintage muscle car bolting past the other as it begins to get ready to catch up.
Hello California!
After two weeks of stunning scenery, jaw-dropping archaeological sites, interesting hotel and motel stops, even more interesting conversations, and of course the pure adrenaline from driving a ridiculously awesome car, we arrived at our final destination: Santa Monica, California. Known as the Mother Road, Route 66 certainly lived up to her reputation of generosity and kindness. Even though it was one of the longest car trips I've done and in one of the least luxurious cars, it was also the most laidback and friendliest. This is a car trip I definitely want twice on my bucket list!
The 2020 Ford Mustang Shelby GT500 is Almost Out
The most powerful street-legal Ford ever built is about to hit the road. Are you as stoked as I am about this? After a range of teasers from the press about the 2020 Ford Mustang Shelby GT500 coming out soon, its actual specs were finally revealed. Clever Ford! While most car manufacturers are pretty open about what their next models will pack, Ford decided to make us petrol heads even more excited about the release of the latest and greatest Mustang, by keeping the juicy details secret for months. But before we get into the nitty-gritty of what makes this Mustang the best by far…
Let's Just get one Thing out The Way
Ford Mustang Shelby GT500 is a mouthful. And I've had more than one discussion with car enthusiasts about the crazy long name. Some say that it's such a powerful piece of machinery, it deserves an effusive, wordy name. Others say the car should (and does) speak for itself and Ford should shorten it. Either way, have you ever wondered where it comes from? The Ford part is obvious, Ford is the manufacturer, and Mustang is the model. Shelby is the name of the man responsible for these mean machines, and the GT500 is to say that this is a big block car and not a small block like the GT350.
Another interesting fact about the name is that it took a while before it was chosen. Names like Torino, Panther, Comet, Colt and Stiletto were suggested. One of the names that were strongly considered was Cougar. I don't like any of them, Mustang is just fine, thanks. Even if the rest of it makes it long.
Now let's talk about those specs.
0-60 in Just Over 3 Seconds and This is Why
Powered by a hand-assembled 5.2-liter aluminium alloy V8 engine which, by the sound of it, works in perfect harmony with the supercharger. Even though it's not a Voodoo engine, it's definitely packing some magic and produces a spine-tingling roar. The quad exhaust with five-inch outlets is just what this beast needs and the all-new 7-speed DCT gearbox undoubtedly makes it a fun driving experience. Who doesn't love powerful acceleration at low speeds and a steady growl at high speeds? Yes, I know there's no manual transmission available and I also enjoy being complete control of the four wheels I'm playing with. But hey, we can't have it all, and this Mustang comes very, very close to perfection.
760 Horses, And Then Some
With a whopping 760 horsepower, 847 Newton-meters of torque, and the most downforce ever in a Mustang (thanks to the front splitter, GT-4-like wing and Michelin Pilot Sport Cup 2 tyres), most car enthusiasts would be thrilled to take one of these formidable cars for a test drive. Add the deliciously aggressive looks, and we are positively drooling. And if you think it can't get better, check out the pricing! This is a supercar but at a Ford price.