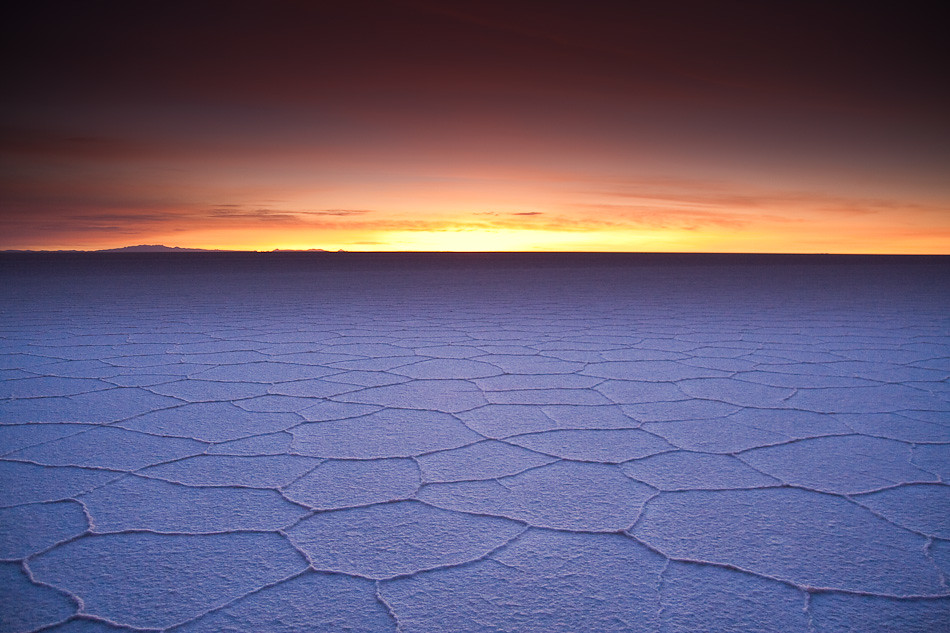 Exploring Salar de Uyuni in Bolivia
If you're ever lucky enough to explore the Salar de Uyuni in Bolivia, you'll feel like you're on another planet. It's both absurdly otherworldly and exquisitely beautiful. It's probably the brightest and strangest place I've encountered in my life and it's also one of the most interesting environments to drive in. Did you know that the Bolivian salt flat not only looks like another planet, it's also one of the few spaces on earth so vast that it is visible from space?
The Uyuni salt flat is the largest of its kind in the world. Imagine a thick slab of salt stretching across miles, covered by polygonal patterns jutting out of the ground. And if you think that makes for an interesting road trip, it gets better. For a few months of the year, a thin layer of rain on the salt flat causes a mirror effect. Yes, the surface of the earth becomes one ginormous mirror in every direction. Can you imagine what driving over this enormous expanse feels like? I could kind of imagine it but really wanted to experience it first-hand.
Off to a Rocky Start
Although I was tempted to rent a 4X4 and give Salar de Uyuni a go myself, I couldn't find anybody adventurous (or crazy!?) enough to join me on this trip, so I decided to join an organized tour. This three-day tour turned out to be one of the bravest trips I've taken. The guide's English was so broken I could hardly understand it. No hot showers, clean beds or ordinary bathrooms, and the high altitude makes everything so much more challenging – no matter how many cocoa leaves you chew, you still feel sick.
The Salt 'hotel' we were taken to on the first night was hardly a hotel. When the tour advert said rustic, I imagined a lack of the usual comforts like no air-conditioning and free shampoo samples – not 12 people crammed into a dorm-room under threadbare blankets. Not to mention that we were given rickety Jeeps to drive the following day, not my number one choice in 4X4 by far.
But Who Needs Comfort Anyway?
Thankfully, my annoyance was short-lived. Even after a night spent tossing and turning, my exhaustion went out of the window as soon as we started taking in the spectacular scenery. On the way to the salt flat, we stopped in an area where volcanic activity and erosion created a forest of rocks, including a 7m tall rock shaped like a tree aptly named 'Tree Rock'. We saw alpacas and pink flamingos by the dozen, live volcanos, super-hot and super loud geysers and a series of stunning lakes, tinted in different colours by algae and minerals.
By the second day, I was even enjoying the Jeep. The highlight for me was to race across the mirror-like surface of the salt flat. Despite his broken English, our guide Juan made it very clear that it was okay to speed by nodding furiously saying, "fast, fast!" Whether this was wise or not, I have no idea. It was electrifying! On my final day, I joined the rest of the tour soaking up warmth and minerals in natural hot springs marveling at my crazy cool experience.